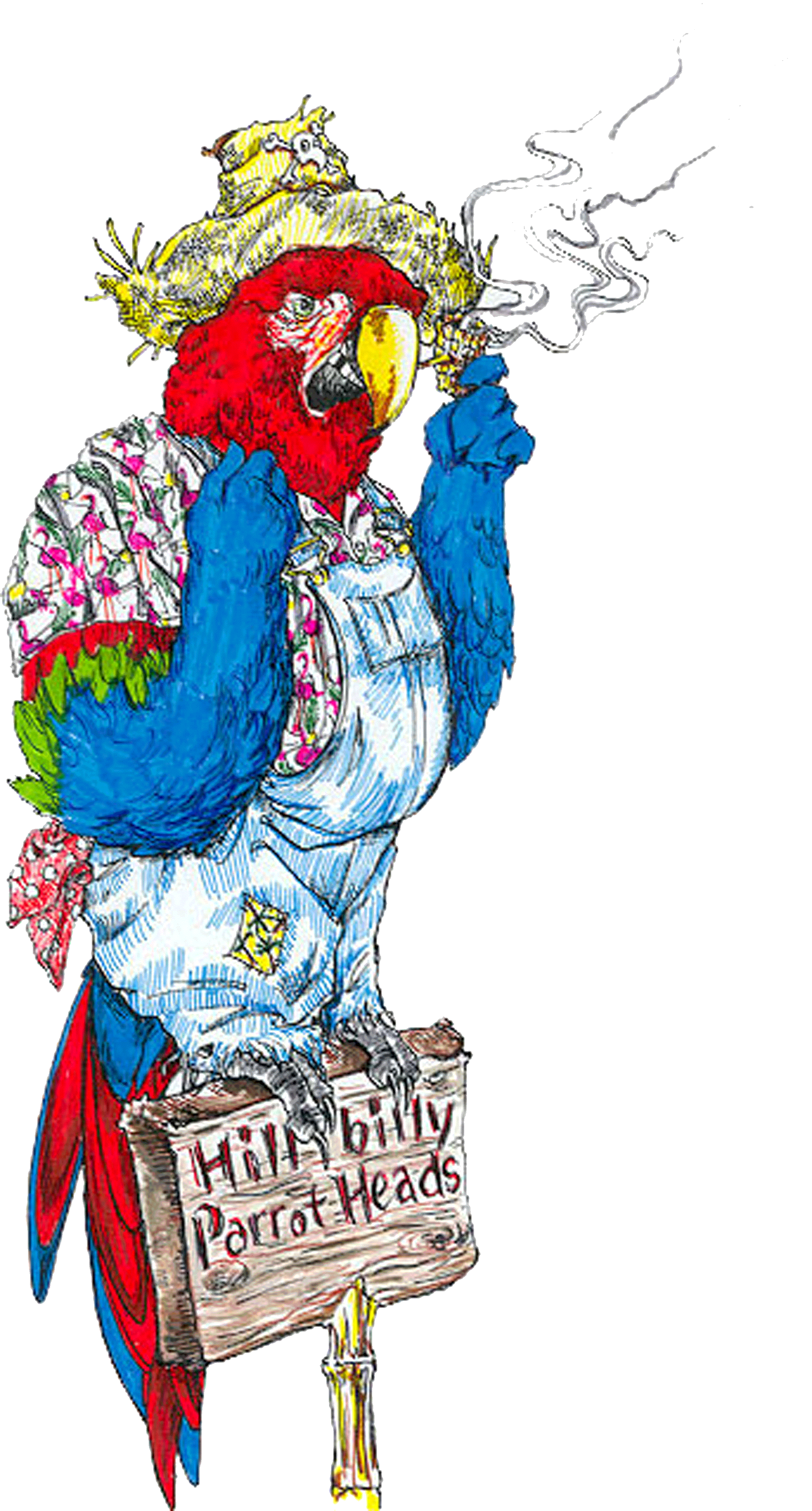 About The Hillbilly Parrot Head Club
When our club was officially launched in the year 2001, we set sail for adventures unknown and a burning desire to find our own Margaritaville. Along the way, this captain and crew have discovered there is great wealth and personal satisfaction in helping others.

We've contributed in excess of $20,000 from our charitable endeavors and logged over 5,000 man hours to aid and assist the local chapters of organizations such as the Make-A-Wish Foundation, St. Jude's Children's Research Hospital, Walk To End Alzheimers, Relay for Life and Toys for Tots. Locally, children's hospitals, 3 area animal shelters & several assisted living facilities all benefit from our efforts.

We have been recognized at baseball games, in newspapers and on television morning news programs. We've organized celebrity bartending for charity, entertained cancer patients in hospitals with song and smiles and we cook at the local Ronald McDonald House on a quarterly basis. With attention to preserving our local environment and its ecosystem, we participate in trash collections at area lakes, rivers & streams. Annually, small toys were collected and sent to impoverished children via a local pediatrician as he travels to third world countries on behalf of Doctors without Borders.

A particularly gratifying project was the recent refurbishing of an area animal shelter that desperately needed attention. With the help of donations from some city merchants, our club gave the place a complete makeover, including building new dog runs, completely painting inside & out, providing new signage and erecting an outbuilding for use as a storage facility. Some of our more talented members even designed and painted a complete, life-sized mural on an outside wall. UPDATE: The local Shelter mentioned here has since been rebuilt in a new location and the result of our volunteer hours for their fundraising efforts came to fruition.

Our passive activities include food collection for local homeless shelters as well as donating soaps, shampoos, dental needs, lotions and other supplies to local men's, women's and family shelters. Where we see a need, we try to help fill the void. We listen to all requests for assistance and coordinate our efforts in the best way possible. We do not to focus on one particular charity, but strive for diversity. Our "ship" follows where the winds of "needed" change take us.

After many years of observation, we've concluded that it's the music and the lifestyle that bind us together as captain & crew, but it is also the needs within our own community that compel us to dock this party boat and offer assistance wherever and whenever possible.

Soon we'll put this year astern. With so much more yet to be done, future journeys will include revisiting old friends and contacts we've made over the years, as well as making new acquaintances in our Parrot Head life's "Trip Around the Sun."

There is always someone in the crow's nest, serving as lookout, to ensure that this schooner of ours is seeking new adventures and dropping anchor to join in on the next "Party with a Purpose," in hopes of "leaving this place just a bit better than we found it."